© WWF Adria_Milica Milović Kinoli
Today's young people will be tomorrow's stewards of our planet. The future of all life depends on them gaining the knowledge, skills and passion to build a more sustainable future. Protected Areas are nature's schools – there is no better place to understand the connection between nature and people.
What is the issue?

Protected Areas are frequently home to threatened and irreplaceable biodiversity. They conserve habitats that are vital for the survival and prosperity of numerous species. It is important that Protected Areas also

become centers for education, to prepare and inspire a new generation to achieve our global and local conservation goals.



Adria's Protected Areas are rich and diverse in species, habitats and cultural heritage. They can become exceptional open air classrooms for environmental education and experiential learning, supported by structured education programs and trained educators. Protected Areas are excellent places for children and young people to gain the problem-solving, critical thinking and team-working skills they need in the 21st Century.
What are we doing?
Through our education program Protected Areas and schools are developing and implementing joint environmental projects and promoting the most important natural and cultural heritage in their communities.
© WWF Mediterranean
© WWF Adria/ Milica Milović Kinoli
© PA4NP
© PA4NP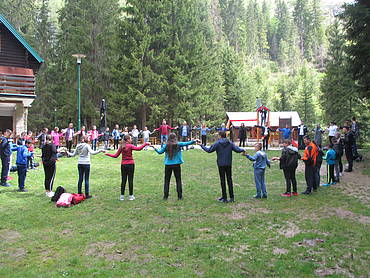 © Mustafa Zvizdić
© WWF Adria/Milica Milović Kinoli
How do we do this?
The WWF Nature Academy is an 8-month environmental education program that develops key competencies of teachers and their students that lead to active citizenship for nature conservation. Each school participating in the program implements an environmental project in cooperation with the management of the Protected Area in their local area. Participants learn about ecological footprint, active citizenship, experiential learning, and how to promote their results and the protected areas. At the same time Protected Areas employees receive training on nature interpretation, development and implementation of education activities based on experiential learning principles.
Who do we work with?
We work with Protected Areas, schools (teachers and students), environmental educators and nature schools facilities.
What are the big wins?
Protected Areas have recognized the importance of having high-quality education programs being implemented by trained PA staff, but most importantly they have recognized schools as important allies in nature conservation.

Cooperation with Protected Areas gives teachers a wide range of opportunities to fit in to their school curricula, especially project-based and experiential learning, as well as extra-curricula activities like eco clubs. Protected Areas are truly outdoor classrooms.